May 28, 2015 By the Marketing Team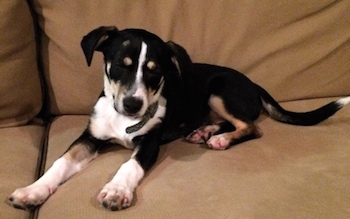 Hi! I'm Ben!
OK, so I think I was the first one to jokingly refer to the two-day strategy session BoxBeacon just had as our very first
"Onsite Offsite"
. If you've ever spent any time in the corporate world, you will be familiar with the concept of the "offsite" meeting. It's an excuse for management to go somewhere warm and that sounds totally awesome, but instead spend the majority of the time locked in an airless conference room drowning in flavorless coffee and whiteboard marker fumes.
This offsite meeting was a little different. As our Commander in Chief likes to remind us, BoxBeacon's headquarters is the internet, but since it's hard to fit our literal asses into cyberspace and since we're still at that lovely pre-revenue stage where every penny literally counts, we opted to hang out at one of our own houses near Houston – with the dogs of course. You can't have the best onsite offsite ever without some canine inspiration.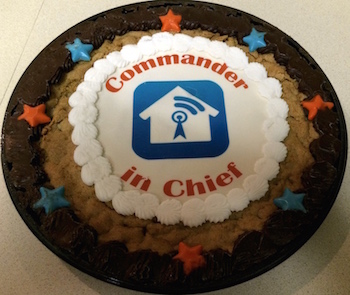 MMMM.. Cake.
What was on the agenda? Well, in some ways it matched typical offsite meeting we all know so well. We consumed way too much sugar. We definitely had to take a few bio breaks, and there may or may not have been some snarking (yes, that is a word) between
Dev
and
Marketing
. But the thing that was so awesome about this onsite offsite was the level of commitment and creativity that everyone brought to it.
It was free-form. It was broad-ranging. It was visionary. We didn't just
THINK (thanks, IBM)
. We made sure to think big, as in REALLY BIG. And to be honest that was exhausting but totally exhilarating at the same time. We ranged from more mundane things, like what actually is the perfect shape for our BoxBeacons and is this one particular frame of our explainer video too short. But then we soared to much loftier topics, like what is the role of beacon technology in this new category that mainstream consumers haven't even heard much about yet –
The Internet of Things
(IOT) and what does that mean for a real estate app that helps agents with their property marketing challenges.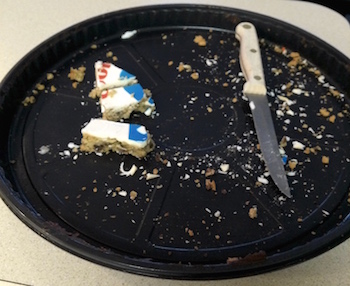 Signs of a successful meeting!
At the end of the onsite offsite we were all a little worn out but vibrating with new ideas (ok, that may have been the sugar). So what can you expect now? In the coming days and weeks you will see a lot of activity from BoxBeacon – both on social media and with the product itself. We have exciting plans for continuing to enhance the app and grow our beta program with real estate agents. (Remember, your first BoxBeacon is FREE!) We also have really cool ideas for getting home buyers excited about and using the app. And, yes, there may be a contest with prizes involved.
Everybody loves a prize, amirite?